You may be using your smartphone as your primary camera, but there are a slew of new gadgets for capturing and sharing your life. Here are some of the latest high-tech spins on the digital camera. Say you want to show off your vacation. Sure, you could post a faded Instagram shot of a deserted beach. But a 360-degree video or photo that captures the waves in front of you and coconuts behind you can make people feel like they're there. Such immersive images have been taking off on services like Facebook and YouTube, where people can swipe or drag to move around the scene on their own.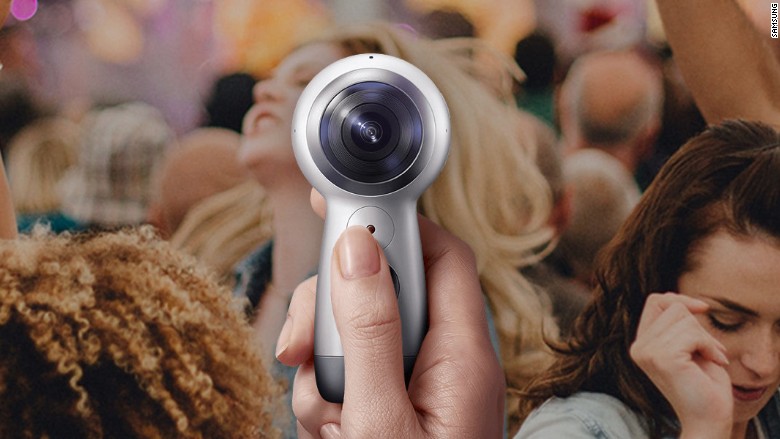 360-degree cameras

One of the most highly rated cameras for this is the Samsung Gear 360, which works with iOS and Android phones. Priced at $290, it's essentially a sphere on a handle, with two fish-eye lenses, and is small enough to toss in a travel bag.

Cameras that watch you

Home security cameras you can stream on a smartphone have become increasingly popular in our Airbnb age. They're also getting smarter and, well, creepier. Google's Nest division makes the Nest Cam, which recently added face- and object-recognition features. It can tell who is walking through the kitchen at 3 a.m., or send a text alert anytime it detects something out of the ordinary. Lighthouse is a $399 camera that combines a security camera with a voice interface. You can ask it things like "What did Junior do this morning?" or "What's my dog up to today?" and instantly see clips of their activities. You can even set up alerts for different types of activities, like jumping or waving.

Wearables

GoPro created the action camera market. Now multiple companies make the small rugged video cameras, which can mount on sports equipment, heads or pets. The next wave in wearable cameras is lower impact. Instead of extreme sports, these wearable devices are used to capture everyday happenings. For the social media addict who lives in fear of missing a photo opp, there's the new $399FrontRow from Ubiquiti. It looks like a stopwatch, dangles around your neck, features a touchscreen interface, and has two cameras — 8 megapixel on the front, 5 megapixel on the back. If you're at an event, you can livestream it without staring at your smartphone. A "story" mode takes stills from the past 12 hours of your life and turns them into a timelapse movie.

A body camera for protection

The Shonin is another wearable camera, but with a very specific use case: security. It clips onto your clothes or bag to act like a dash cam for your body. Currently a Kickstarter project that's raised more than $200,000, the idea is to have a personal recording of any possible assault, accident, or injustice. It will be able to save 720p or 1080p video directly to the cloud or YouTube, or broadcast it on Facebook Live, to prevent tampering. Starting at $169, the square camera will be 2.2 inches high and waterproof. You could see it at protests starting in February.

Throwback to pre-Instagram cameras

First there were instant cameras, and they printed physical square photos with faded colors. Then came smartphones, which pushed instant cameras to the edge of extinction, and Instagram, which cropped digital photos into squares with faded colors. Completing the circle is Fujifilm's Instax Square SQ10, which takes digital photos and then prints them as squares. You can make edits on the touchscreen, such as adding film-like color filters. At $280, it's quite a bit pricer than the company's actual instant cameras (which start at $60), but Fujifilm thinks it will hit a sweet spot with millennials who want print and digital in one device.